South Carolina Department of Archives and History
National Register Properties in South Carolina

Old Textile Hall, Greenville County (322 West Washington St., Greenville)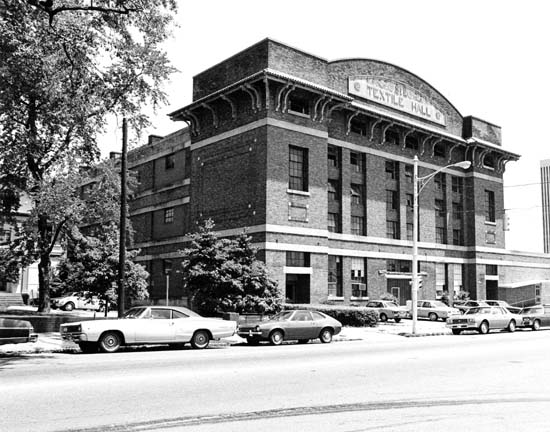 Left Oblique
Old Textile Hall was built in 1917 for the Southern Textile Exposition, Inc. The building is significant as the first exposition facility for textile machinery and products in the southeast, for its use as Greenville's early civic auditorium, and for its physical presence as a major city landmark. Expositions were held on a regular basis in Old Textile Hall from 1917 to 1962 and played a pivotal role in the promotion and growth of the textile industry in the upstate region to a position of national and eventual world leadership. J.E. Sirrine and Company, Engineers, a prominent Greenville firm specializing in textile mills and industrial plants, designed the building. The construction was carried out by the Fiske-Carter Construction Company of Spartanburg. Rectangular in plan, Old Textile Hall is constructed of load bearing brick perimeter walls that incorporate horizontal reinforced concrete and granolithic bond beams. The fašade is symmetrical in design and comprises a five-story section at the southern end of the building and includes projecting rectangular corner pavilions. The roofed cornice and a high brick parapet are featured on all three sides of the southern section. The barrel shaped roof is constructed of heavy timber frame components and supported by a crescent truss system visible from the interior of the building in the auditorium. Two one-story annexes were constructed, in 1926 and 1952, adjacent to the east elevation to provide additional exhibit space. Listed in the National Register November 25, 1980. Old Textile Hall has since been demolished. Removed from the National Register March 15, 2000.
View the complete text of the nomination form for this National Register property.
Most National Register properties are privately owned and are not open to the public. The privacy of owners should be respected. Not all properties retain the same integrity as when originally documented and listed in the National Register due to changes and modifications over time.
Images and texts on these pages are intended for research or educational use. Please read our statement on use and reproduction for further information on how to obtain a photocopy or how to cite an item.
Images provided by the
South Carolina Department of Archives and History.