South Carolina Department of Archives and History
National Register Properties in South Carolina

China Grove, Georgetown County (Union Crossroads vicinity)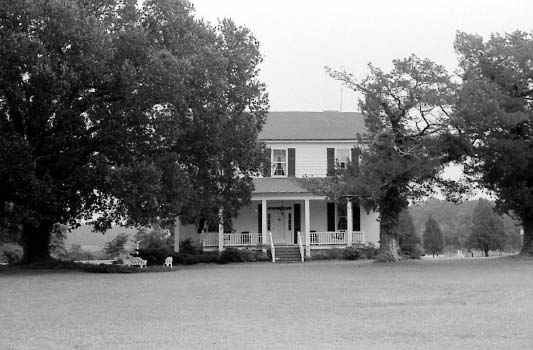 Facade
China Grove is architecturally significant as a surviving representative of the typical South Carolina farmhouse form in rural Georgetown County. It takes its name from the Old China Grove area of the county in which it is situated. The central hall plan, with rooms to either side, a stair in the hall, and windows located centrally in the walls of their respective rooms, are integral to the type. Its exact building date is unknown, but architectural analysis and historical research suggest a construction date of ca. 1830-1835, making its probable builder James Snow III. China Grove is a two-story frame house situated on brick pier foundations. It has a one-story shed porch with six freestanding pillars and plain balustrade. The siding is weatherboard, with flush board on the first story fašade. The entrance has sidelights and a transom framing the door; this door surround, as well as the interior door surrounds and the mantels, are decorated with a consistent pattern of staggered vertical lines, or reeding. The rear elevation has a 1948 one-story shed porch addition with freestanding pillars built to resemble the front porch except that it is screened and has exposed rafter ends. Listed in the National Register March 25, 1982. China Grove has since burned. Removed from the National Register March 15, 2000.
View the complete text of the nomination form for this National Register property.
Most National Register properties are privately owned and are not open to the public. The privacy of owners should be respected. Not all properties retain the same integrity as when originally documented and listed in the National Register due to changes and modifications over time.
Images and texts on these pages are intended for research or educational use. Please read our statement on use and reproduction for further information on how to obtain a photocopy or how to cite an item.
Images provided by the
South Carolina Department of Archives and History.