South Carolina Department of Archives and History
National Register Properties in South Carolina

Dr. Benjamin Gregg House, Florence County (315 South Coit St., Florence)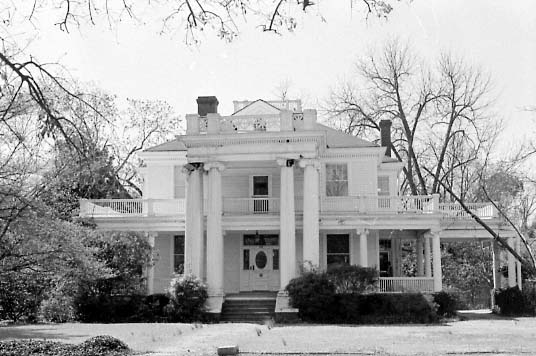 Facade
The Dr. Benjamin Gregg House is significant as an excellent example of the Beaux Arts style of residential architecture. Constructed circa 1907, the Gregg House was built by Dr. Benjamin Gregg, a prominent physician and pharmacist in Florence. The projecting two-story portico is supported on each side by three Roman Ionic fluted columns of monumental proportion which form the typical "coupled" columns of the style when viewed from either front or side. The portico is topped by a balustraded parapet with sections divided by pedestals in an elaborate fret design. A lower porch extends across the front of the house and is covered by the larger portico. This lower porch wraps around the corners of the house and ties into the porte cochere on the right side. Both lower porch and porte cochere have small unfluted columns matching the larger portico columns, and both are topped by a balustrade of simple square picket design with pedestals above each column. The hipped roof of the main house has a center flat deck with a balustrade matching the lower front porch. All cornices are denticulated in graduated proportion with the columns. The property also features a two-story garage apartment. Listed in the National Register December 8, 1978. The Dr. Benjamin Gregg House has since burned. Removed from the National Register March 15, 2000.
View the complete text of the nomination form for this National Register property.
Most National Register properties are privately owned and are not open to the public. The privacy of owners should be respected. Not all properties retain the same integrity as when originally documented and listed in the National Register due to changes and modifications over time.
Images and texts on these pages are intended for research or educational use. Please read our statement on use and reproduction for further information on how to obtain a photocopy or how to cite an item.
Images provided by the
South Carolina Department of Archives and History.