South Carolina Department of Archives and History
National Register Properties in South Carolina

Robbs House, Cherokee County (310 W. Buford St., Gaffney)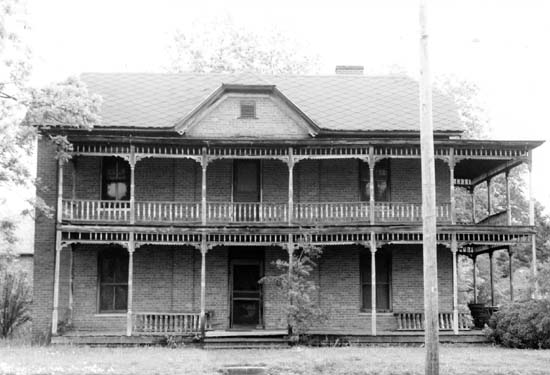 Facade
The Robbs House, built by Thompson Robbs in 1884, is one of the oldest homes standing in Gaffney and was one of the few brick homes constructed in the town in the nineteenth century. Thompson Robbs was a wealthy merchant and farmer who settled in Gaffney soon after it was founded. The house is architecturally significant due to its craftsmanship and essentially unaltered condition. It retains its original finely detailed porch and a collection of early outbuildings. The house has a central passage I-House plan with a two-story brick ell at the rear. The roof is a jerkinhead gable form with a central jerkinhead gable on the main fašade. A prominent feature is the two-story porch with milled posts, fan brackets, a spindled railing, and decorative frieze composed of spindles and sawtooth vergeboard. The house has five-course common bond brickwork with pilasters framing the main entrance, which features its original door with border glass. Outbuildings include an original brick stable and a ca. 1900 brick carriage house. Listed in the National Register March 27, 1986. The Robbs House has since been demolished. Removed from the National Register March 15, 2000.
View the complete text of the nomination form for this National Register property.
Most National Register properties are privately owned and are not open to the public. The privacy of owners should be respected. Not all properties retain the same integrity as when originally documented and listed in the National Register due to changes and modifications over time.
Images and texts on these pages are intended for research or educational use. Please read our statement on use and reproduction for further information on how to obtain a photocopy or how to cite an item.
Images provided by the
South Carolina Department of Archives and History.