South Carolina Department of Archives and History
National Register Properties in South Carolina

Sarratt House, Cherokee County (217 Marion St., Gaffney)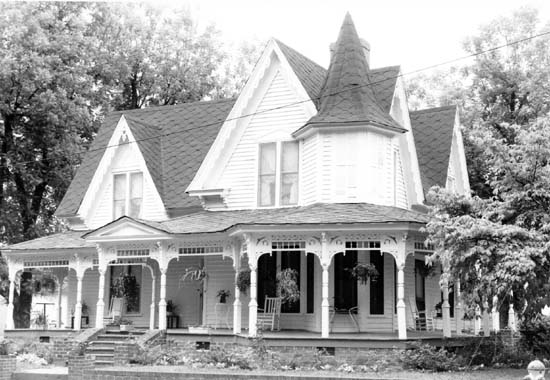 Facade
The Sarratt House is a significant example of the Queen Anne style. The house was built in 1882 for J.L. Sarratt, who was a prominent Gaffney merchant for many years. The Sarratt family occupied the house until 1932 when it was sold to the Taylor family. The house is in unusually intact condition and its large porch area, tower and gables make it one of the most architecturally significant late nineteenth century residences in Gaffney. The house's most striking feature is the 180' long porch which wraps around the main (north), east and west facades. The porch has milled posts with brackets, drip pendants and a decorative frieze composed of spindles and jigsaw panels. The house has prominent gables on the north and west facades with eaves brackets and scalloped vergeboard. At the northwest corner is a projecting hexagonal tower with a bellcast roof and louvered second-story shutters. Listed in the National Register March 27, 1986. The Sarratt House has since been demolished. Removed from the National Register March 15, 2000.
View the complete text of the nomination form for this National Register property.
Most National Register properties are privately owned and are not open to the public. The privacy of owners should be respected. Not all properties retain the same integrity as when originally documented and listed in the National Register due to changes and modifications over time.
Images and texts on these pages are intended for research or educational use. Please read our statement on use and reproduction for further information on how to obtain a photocopy or how to cite an item.
Images provided by the
South Carolina Department of Archives and History.