South Carolina Department of Archives and History
National Register Properties in South Carolina

West End Elementary School, Cherokee County (corner of Floyd Baker Blvd. and Broad St., Gaffney)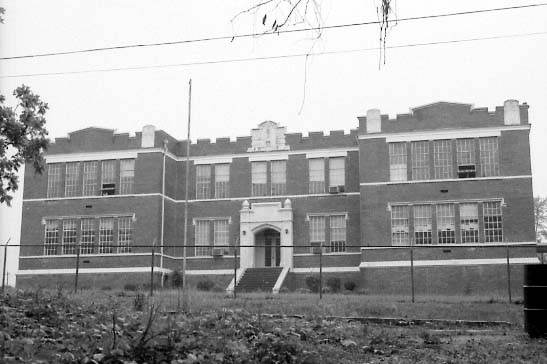 Facade
The West End Elementary School is significant for its association with the history of public education in Gaffney and for its local architectural distinction. The building, completed in 1917, served as a public elementary school from 1917-1975. In 1977 it became Cherokee High School. It is the oldest remaining intact public school building in the city. Victor I. Spurgeon, a prominent local contractor and builder, constructed the school. The school is a large two-story brick building on a raised brick basement. The brick is stretcher bond. The main entrance features a crenellated surround with a Tudor arch and large finials. A water table defines the top of the basement level; belt courses define the bottom of the first and second story windows. At the roofline of the building is a crenellated parapet; inset into the parapet are concrete panels with shield designs inscribed with such words as "Thrift," "Industry," "Charity," and "Hope." A larger panel over the main entrance is inscribed with "Pro Patria." Modern additions have been constructed on the rear elevation of the school. Listed in the National Register March 27, 1986. The West End Elementary School has since been demolished. Removed from the National Register March 15, 2000.
View the complete text of the nomination form for this National Register property.
Most National Register properties are privately owned and are not open to the public. The privacy of owners should be respected. Not all properties retain the same integrity as when originally documented and listed in the National Register due to changes and modifications over time.
Images and texts on these pages are intended for research or educational use. Please read our statement on use and reproduction for further information on how to obtain a photocopy or how to cite an item.
Images provided by the
South Carolina Department of Archives and History.