The National Register of Historic Places -
Search Records by County
South Carolina has more than 1,400 listings in the National Register of Historic Places, including more than 160 historic districts.
Use the map below to navigate to National Register properties for a specific county with links to:
a summary paragraph describing the importance of each National Register property
photographs of each individually listed property and representative photographs for historic districts
the complete text of the National Register nomination forms
boundary maps of historic districts
See also Historic Contexts for all Multiple Property (MPS) and Multiple Resource (MRA) nomination contexts. These nomination contexts organize National Register documentation by historic themes, property types, or geographical areas.
Due to changes over time or destruction properties can be removed from the National Register. The following properties in South Carolina have been delisted.
You can also search records for National Register properties by location, individual, or topic through the Archives and History Online Records Index.**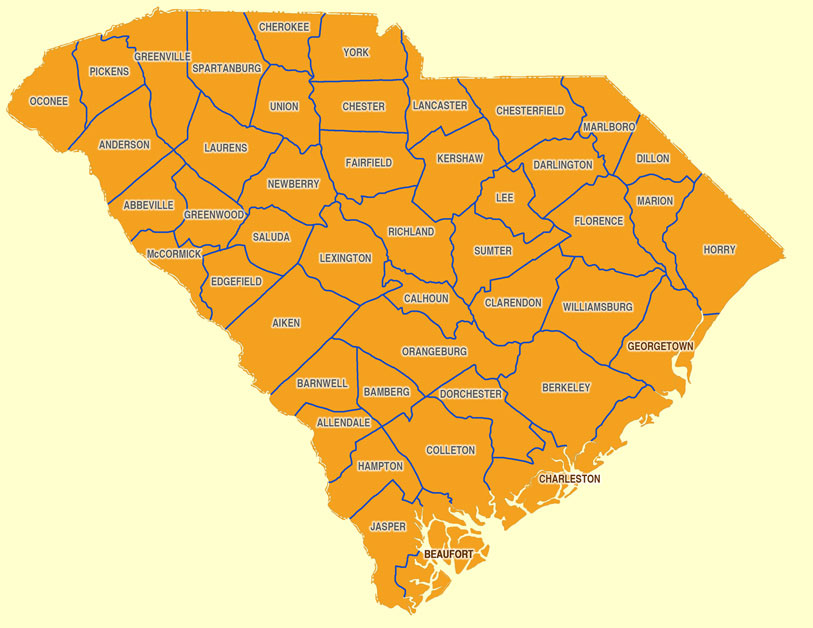 Abbeville || Aiken || Allendale || Anderson || Bamberg || Barnwell || Beaufort || Berkeley ||
Calhoun || Charleston || Cherokee || Chester || Chesterfield || Clarendon || Colleton ||
Darlington || Dillon || Dorchester || Edgefield || Fairfield || Florence ||
Georgetown ||Greenville || Greenwood || Hampton || Horry ||Jasper || Kershaw ||
Lancaster || Laurens || Lee || Lexington|| McCormick|| Marion || Marlboro ||Newberry||
Oconee || Orangeburg || Pickens || Richland || Saluda || Spartanburg || Sumter || Union ||
Williamsburg || York
**Using the OnLine Records Index, you can search the National Register records for properties in a particular location (for example, Bennettsville); properties associated with an individual (for example, Wesley, John); or properties associated with a topic (for example, Civil War, Greek Revival, African American, or grist mill). To begin a search go to the Department of Archives and History's Online Records Index, click on "Search Page," and select the Record Group, "National Register Properties."